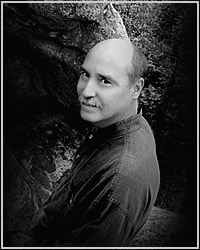 Matthew Ward
As a member of the '70s Jesus rock mainstays 2nd Chapter of Acts, vocalist Matthew Ward helped create the sound that eventually became CCM; upon the group's dissolution in 1988, Ward embarked on a solo career.
Ward grew up in North Dakota on his family's farm, one of nine siblings; after moving to Sacramento, his mother died of a brain tumor in 1968, and his father passed away just two years later. The 12-year-old Matthew, along with his older sister Nelly, moved in with older sister Annie Herring and her husband, Buck, a sound engineer. The three siblings formed 2nd Chapter of Acts out of their therapeutic nightly sing-a-longs, and Buck's contact with born-again "Eve of Destruction" singer Barry McGuire catapulted the group into stardom on the Christian circuit.
Basing himself in Lindale, TX, Ward began his solo career in earnest after 2nd Chapter of Acts disbanded in 1988, releasing the LP Toward Eternity the following year (it had actually been recorded some time earlier). Follow-ups included Armed and Dangerous, Fade to White, and 1992's Point of View.
However, during the '90s, Ward was stricken with cancer; he spent quite some time away from music to battle the disease. He returned in 1997 with My Redeemer, an album of songs about his fight with cancer and the comfort of faith; it became the most widely acclaimed work of his solo career. The follow-up, Even Now, was released in 2000. Christmas with Matthew Ward was released in 2007.
In 1999 Matthew was inducted into the Gospel Music Hall of Fame of the Gospel Music Association. Matthew has:
- won a Dove Award.
- helped lead 500,000 men in worship as part of the 1996 Promise Keepers praise team.
- sung title song for the 1996 Billy Graham Christmas TV special, "Season For Peace."
- Ward's songs "To The King" and "I Will Worship You" held the No. 1 position on Christian music charts. - Matthew sang a duet with pop diva Donna Summer, as well as background vocals on other songs including the No. 1 hit "She Works Hard For the Money."
- Matthew also sang background vocals on Grammy-winning country artist Leann Rimes' best-selling album "Blue" as well as "Sitting on Top of the World."Ward has recorded or performed with more than 50 contemporary Christian artists, including Andrae Crouch, Annie Herring, Dennis Jernigan, Ron Kenoly, Twila Paris, and the late Keith Green.
- He is a writer, producer, arranger and has written, co-written, and/or produced songs for well-known Christian artists.
- He has performed in all 50 states in the U.S., and in more than 30 foreign countries.